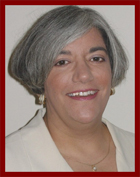 Marcy J. Maslov
With over 20 years of experience in the world of Fortune 500 accounting and finance, Marcy has held roles of increasing responsibility, from entry level accounting to CFO; in industries such as biotech, semiconductor, entertainment, food, soft drinks, and manufacturing.

Her International expertise has called on her to live in France, Canada and Mexico. While in Mexico for over 4 years, she took advantage of the opportunity to learn and speak Spanish fluently.

Marcy has completed formal training in the Co-Active Coaching model from The Coaches Training Institute, one of the leaders in developing and advancing the coaching profession. In addition, Marcy earned her CPA from the state of Illinois and has a Bachelor of Science in Accountancy from the University of Illinois. Marcy also completed a Masters degree in business administration from Duke University. Marcy's international and diverse experiences have prepared her well for her Business Coaching Practice. In a variety of areas, including career building, interviewing, budgeting, strategic planning, internal controls, business ethics and international operations, she has honed her coaching skills to meet the needs of today's marketplace.

In looking at the economy and the challenges businesses and professionals are facing today, Marcy felt compelled to give back in a way that strengthened both the business economy and the people that make it happen. Marcy decided to create her own company to help business professionals who desire to become more effective leaders in their corporate roles. Marcy also wanted to use her experience to bring Fortune 500 knowledge to small business, women and the Hispanic community to help them grow personally and professionally.

In her Consulting and Coaching Practice, as trusted advisor, advocate and confidant, Marcy's philosophy is that everyone has the ability to achieve their goals and unlock the doors to their own potential - the toughest part is just getting started! Her coaching style is collaborative. Marcy creates an open and honest environment and provides a support structure, focus, and a positive energy that helps motivate her clients to explore their opportunities and develop a winning strategy.

Contact Marcy now to explore your own opportunities.

She would love to meet you and help you unlock your potential today for tomorrow!